We hope you enjoyed the Lunar New Year festivities earlier this month and spent time with loved ones.
This February, we are excited to start a new season of in-person and virtual programming with CKA members across the country. We encourage you to check out our events calendar online and register for regional networking opportunities in New York City, Washington, DC, and Chicago. 
In addition, we are delighted to welcome our newest staff member Aileen Chung. Some of our members had a chance to meet her at our recent members virtual forum.
This week, we mourn the loss of Christina Yuna Lee, a Korean American digital producer. Christina was passionate about diversity and inclusive creator spaces and formed the Art Appropriation Council at Splice to combat racism and appropriation. We offer our deepest condolences to her family and continue to honor her life. Please read CKA's full statement.
As always, we are proud to share the accomplishments and changes in the lives of our CKA trailblazers. It is truly inspiring to see how Korean Americans are making strides in areas like technology, business, government, law, research, and sports. 
Warm Regards,


Abraham Kim, Ph.D.
Executive Director
Council of Korean Americans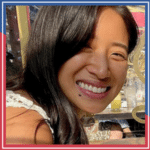 Remembering Christina Yuna Lee