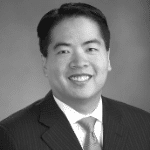 Lorence Kim
Venture Partner,

Third Rock Ventures
Location: New York, NY
Member Since: 2020
Lorence Kim, M.D. is a Venture Partner at Third Rock Ventures. He previously served as the Chief Financial Officer of Moderna from April 2014 to June 2020, raising $4.4 billion of capital for the company and deploying resources to discover and advance a pipeline of 24 development candidates across infectious disease, oncology, rare disease and autoimmune disease. Moderna raised, as of his departure, the three largest private financing rounds, the largest IPO and the largest follow-on offering in biotech history. Dr. Kim joined Moderna after an investment banking career at Goldman Sachs from 2000 to 2014, where he was a managing director and co-head of the U.S. biotechnology investment banking effort. Dr. Kim's responsibilities included corporate finance and mergers and acquisitions for the biotechnology industry, with several billion in equity and equity-linked financings, and more than $55 billion in M&A transactions. Dr. Kim was a member of the Board of Directors of Seres Therapeutics from October 2014 to June 2020.
Dr. Kim graduated from Harvard University, magna cum laude and Phi Beta Kappa with an A.B. in biochemical sciences in 1995. He earned an MBA in healthcare management as a Palmer Scholar from the Wharton School of the University of Pennsylvania and an M.D. from the University of Pennsylvania's School of Medicine in 2000.
He lives with his wife and three children in New York City.