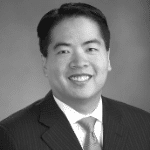 Lorence Kim
CFO,
MODERNA

Location: New York, NY
Member Since: 2020
Lorence Kim, M.D. was the Chief Financial Officer of Moderna from April 2014 to June 2020, raising $4.4 billion of capital for the company and deploying resources to discover and advance a pipeline of 24 development candidates across infectious disease, oncology, rare disease, and autoimmune disease. Moderna raised the three largest private rounds, the largest IPO and the largest follow-on offerings in biotech history. 
Dr. Kim joined Moderna after an investment banking career at Goldman Sachs from 2000 to 2014, where he was a managing director and co-head of the U.S. biotechnology investment banking effort. Dr. Kim's responsibilities included corporate finance and mergers and acquisitions for the biotechnology industry, with several billion in equity and equity-linked financings, and more than $55 billion in M&A transactions.
Dr. Kim graduated from Harvard University, magna cum laude and Phi Beta Kappa with an A.B. in biochemical sciences in 1995. He also earned an MBA in healthcare management as a Palmer Scholar from the Wharton School of the University of Pennsylvania in 2000 and an M.D. from the University of Pennsylvania's School of Medicine in 2000.
Dr. Kim was a member of the Board of Directors of Seres Therapeutics from October 2014 to June 2020. He lives with his wife and three children in New York City.