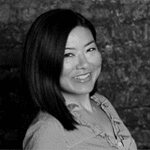 Anne Y. Kim
CEO, Chief Social Equity Strategist,
Equal Pay Company
Location: Los Angeles
Member Since: 2017
Tenacious and long-game-minded, Anne Y. Kim works to normalize equity in the workplace at Equal Pay Company. Equal Pay Company (EPC) creates products for equal pay, culture, and growth at scale — to better relate with your colleagues and clients, secure client contracts, and reduce talent turnover. EPC focuses companies and employees on ACTIONS and metrics to develop successful, sustainable company culture across all life experiences.
Before founding Equal Pay Company, Anne recommended policy as Assistant Deputy to Los Angeles County Supervisor Mark Ridley-Thomas on the public portfolio of $27 billion and over 108,000 employees to ensure the wellbeing of residents, including Korean Americans in arguably Los Angeles' most powerful African American elected official's office. She coalesced population-inclusive laws, regulations, and person-centered programs with researched best practices for contextual consideration and envisioned policy direction on behalf of the spectrum of 10 million residents of Los Angeles County.
Her passion for equity translates into community service and fitness. Join Anne in mentoring under-resourced students to gain the knowledge and tools to access college, graduate school, and careers. She hoofs runs and triathlons in the neighborhood, at the beach, or in the mountains. Take up her standing invitation to join a run, ride, or swim to combat obesity and enjoy the natural majesty that surrounds us. California's Triathlon Club Championship Series named her the 2016 Most Improved Athlete; LA Tri Club, 2014 Newbie of the Year. Her father and mother immigrated from middle class families only to find themselves shouldering the common struggles of immigrants. Anne is a product of hardworking parents and local public schools. She earned a Bachelors at UC Berkeley to develop a basic, comprehensive understanding of the world. She earned a Masters at Harvard to understand global energy and health systems, and how to change them.