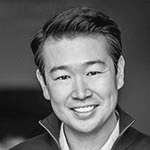 Eric J. Kim
Co-Founder and Managing Partner,
Goodwater Capital
Location: San Francisco Bay Area
Member Since: 2017
Eric J. Kim is Co-Founder and Managing Partner of Goodwater Capital, a multi-billion dollar venture firm and the world's largest consumer tech focused investing platform. Eric has led investments into leading consumer internet companies such as Kakao (IPO – KOSDAQ:035720), Musical.ly (acquired by Bytedance / Tik Tok), Coupang (CPNG), Xendit, Viva Republica (Toss), Danggeun Market (Karrot), MoMo, and Everlywell.
Prior to co-founding Goodwater, Eric was a Managing Director at Maverick Capital where he helped to build Maverick's private investments and venture capital business. Eric was also a startup member of two technology companies spun out of Stanford University. Eric began his career as a consultant with McKinsey & Company.
Eric first learned to code as an undergrad at Yale University where he majored in Cognitive Science (Phi Beta Kappa, Magna Cum Laude) and was a member of the Grammy-nominated Yale Cellos. Eric also received an MBA from Stanford University's Graduate School of Business. Eric serves on the advisory board of the Johns Hopkins Alliance for Science and Technology and on the boards of the Asian Pacific Fund, College Track and the St. Thomas More Chapel at Yale University.