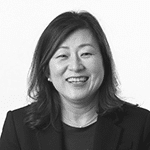 June Lee
VENTURE PARTNER,
5AM VENTURES
Location: San Francisco Bay Area
Member Since: 2013
Membership Type: Full
Dr. June Lee is a physician-scientist recognized for her ability to integrate emerging advances in science with business strategy. Most recently, she was the Founder and CEO of Esker Therapeutics. She previously served as Chief Development Officer and Chief Operating Officer of MyoKardia, Inc., a clinical-stage public biotechnology company with a focus on precision cardiovascular medicines. At MyoKardia she built and led a world-class development organization culminating in the company's $13.1 billion acquisition by Bristol Myers Squibb in November 2020. Prior to MyoKardia, Dr. Lee was Professor of Medicine at UCSF School of Medicine, where she served as Director of Translational Research and built the Catalyst Program, an internal accelerator at UCSF for early-stage technologies in therapeutics, devices, diagnostics, and digital health. She is also the founding chair of the University of California Drug, Device, Discovery, and Development Group. Previously, she was therapeutic area head in early clinical development in cardiovascular, metabolism, respiratory, and infectious diseases at Genentech.
Dr. Lee previously served as Chair of the Board of Directors of the Council of Korean Americans. She is a founding member of the Translational Research Advisory Council of South Korea's MOGAM Research Institute, and the MTRAC for Life Sciences Innovation Hub Therapeutic/Diagnostic Oversight Committee, a unit associated with the University of Michigan Medical School. She currently serves on Johns Hopkins University Center for Therapeutic Translation's Advisory Board, Board Director for Eledon Pharmaceuticals Inc., and member of the Scientific Advisory Board for Foresite Labs.
Dr. Lee completed a Bachelor of Science in chemistry at Johns Hopkins University, an M.D. at the School of Medicine at the University of California, Davis, and her clinical training in internal medicine and pulmonary & critical care at UCLA and UCSF.