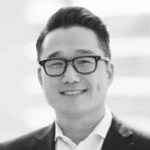 Michael Keyoung
Managing Director and Head of North America
C-Bridge Capital
Location: New York
Member Since: 2014
Membership Type: Full
Michael Keyoung, MD, PhD is a physician, executive and investor with 20 years of experience.
Dr. Keyoung is Managing Director and Head of North America for C-Bridge Capital, a leading healthcare Private Equity firm focused in Greater China.  Dr. Keyoung is also Founding Managing Partner of Portola Capital Partners, US healthcare-focused investment firm that invests and advises healthcare companies.
Previously, Dr. Keyoung served as President and CEO of Genexine Inc, KOSDAQ-listed biotech company with $1 Billion dollar market cap focused on developing innovative biologic drugs for incurable diseases.  He successful help lead clinical development in Europe and Asia, raised $100 million in equity and set up with partnerships with Merck, Fosun Pharma, Tasly Pharma and Kalbe Pharma valued over $250 Million during his tenure.
Dr. Keyoung was President of Catalyst Biosciences, a clinical stage biotech company listed in NASDAQ, targeting innovative novel biologics with their lead asset ready to embark on global Phase 2/3 trial.  Catalyst formed previous and existing development partnerships with Pfizer, MedImmune and Isu Abxis.
Throughout his career, he has invested in biotech and medtech companies in US, Europe and Asia as an institutional investor and advised leading healthcare companies such as Eli Lilly, Bausch & Lomb, and Samsung Electronics/Samsung Biologics in their regional expansion to Asia or global drug development, commercial strategies and partnerships.
Dr. Keyoung received both his Medical Doctorate and Ph.D. in Neuroscience and Neurology from Cornell University Weill Medical College and Memorial Sloan Kettering Cancer Center.  Dr. Keyoung trained as a surgeon at Univ. of California San Francisco Medical Center and was a biomedical fellow at Rockefeller University and Memorial Sloan-Kettering Cancer Center.