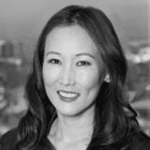 Gloria J. Lee
Partner, Rutan & Tucker, LLP
Location: Los Angeles
Member Since: 2017
Gloria Lee is the Client Relations Partner for Rutan & Tucker, LLP, one of the largest full-service law firms in California. She is the only Korean American partner and Chair of the Firm's Business Development Committee. Gloria is also the Co-Founder of Kwell Laboratories and a Venture Partner of Ethos Fund, a tech fund with a focus on investments in Southeast Asia, Korea and the U.S.
Ms. Lee serves on the public company board of Hanmi Bank and several non-profit boards, including CKA. She formerly served on the Executive Board of Asian Americans Advancing Justice – LA, and is a past president of the Orange County Asian American Bar Association.
Ms. Lee earned her JD at UC Berkeley and earned her BA and MA concurrently in four years from Stanford University where she played for the three-time national champion badminton team.