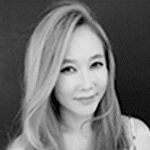 Esther Song
FOUNDER AND CEO, SONG GROUP ;
SENIOR ADVISOR, UNITED TALENT AGENCY
Member Since: 2021
Esther is the founder and CEO of Song Group which brings together experienced experts in various fields with specialization in cross-border expansion with those looking to grow internationally between Asia and North America. She is also a Senior Advisor at United Talent Agency for Strategic Partnerships/Asia Pacific, one of the top three Entertainment Agencies in the United States
As a partner of SG, Esther also serves as the CEO for North America for SD Biotechnologies, a company innovating products for inner and outer wellness. With brands such as SNP, SNP LAB, SNP PREP, and JELLIFIT, SD Bio continues to expand in the North American market with products that assure quality ingredients and forefront R&D to innovate for optimal inner and outer wellness.
Examples of other SG's work include attaining exclusive distribution rights to fashion brands such as Free City and William Rast (Justin Timberlake's clothing brand) for Korea. Esther has extensive international management and business development experience with a specialization in the Media & Entertainment (M&E) Industry. Through a joint venture partnership with Telos Group, SG also established Telos Global Entertainment Group(TelosGEG) to create a more reliable music concert tour platform to Asia for mainstream artists, bringing together top concert promoters and producers for artists such as Maroon 5, Beyonce, Justin Bieber and Eric Clapton.
In addition, Esther Song is a producer who brings together US and Asia content opportunities for co-production, collaboration and remakes, supporting key foreign productions, format licensing and co-production opportunities for production companies, including serving as a producer for 10×10 Entertainment for Asian and Asian American projects.
Prior to that, Esther was the Country Manager of Korea for Akamai managing sales and operations via direct and strategic channel partners and was responsible for establishing and developing the Korean business from the ground up, servicing corporate Korea. She was responsible for growing Akamai's business in Korea over seven-fold in just four years. Key partners and customers include, but are not limited to, Samsung, Nexon, NHN, MBC, Ahnlab and Pandora TV. Esther started with Akamai as a Senior Account Manager in West US where she managed and grew key accounts such as Disney, Sony, MGM, Paramount, FOX, Universal, ClearChannel, WB, Warner Music, and IAC Corp. She was awarded the Account Manager of the Year Award in both 2001 and 2003.
Prior to Akamai, Esther was a Sr. Mechanical Analyst Engineer at Boeing Space and Communications Division managing mechanical analysis for testing rocket engines and components. Esther obtained an MS & BS in Engineering from UCLA, also studied Fashion Design from Otis College, and an alum of Network of Korean American Leaders (NetKAL) Fellowship, as well as served as the Vice-Chair of NetKAL Board until the recent merger with the Council of Korean Americans (CKA) where she is now serving as a CKA board member.