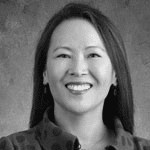 Catharina Min
Partner, Covington & Burling, LLP
Location: San Francisco Bay Area
Member Since: 2011
Membership Type: Full
Catharina Min is a partner at Covington & Burling LLP's corporate department specializing in mergers & acquisitions, venture capital and other investments, joint ventures, strategic alliances. She represents high technology and life sciences companies from the U.S. and Asia in both domestic and cross-border transactions.
She is also a co-founder and past Chair of the Board of Council of Korean American.
In addition, she is a frequent speaker at many organizations including the Silicon Valley Association of Startup Entrepreneurs, Practising Law Institute and the Korean IT Network Forum covering topics related to cross-border transactions and venture capital financings.
Catharina has been named by The Recorder to "Top Women in Technology Law" and "California Women Leaders in Law"; by the National Diversity Council to "Top 50 Multicultural Leaders in Technology"; by the Diversity Council as "Most Powerful and Influential Women"; by Silicon Valley Business Journal to "Women of Influence"; and was awarded the Debra Zumwalt Pioneer Award for Transformative Leadership by InsideCounsel magazine.
Catharina is also very active in civic and bar associations. She was the Overseas President of the International Association of Korean Lawyers; Director and past president of Korean-American Chamber of Commerce of San Francisco and Korean-American Bar Association of Northern California; Board Member of the Korean-American Community Center; and Previous co-chair of the Practice Development Committee of the Asian American Bar Association;
She received her B.A. and J.D from the University of Virginia and served as the Editor of the Virginia Law Review.