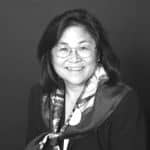 Debbie Shon
CHIEF STRATEGY OFFICER,
USA GYMNASTICS
Location: Washington, DC
Member Since: 2020
Debbie Leilani Shon has been an activist in political, legal, and sports & entertainment for decades.  She practiced law as a litigation partner and commercial lawyer with the US- and Australasia-based firms. She advised international corporations, regional trade organizations, and governments concerning sensitive and sophisticated economic, trade, and national security matters. She was resident in Asmara, Abuja, Hanoi, Hong Kong, and Singapore for special projects.
She has also served as a business executive in major corporations. She served as VP for International Trade Law and Global Public Policy at a Fortune 200 integrated steel company – the first Asian American in the C-suite. Debbie also served as CEO for China operations of the world's leading live entertainment firm, where she managed the P/L, legal affairs and government relations and public policy in the region, protecting a valued US brand and its employees. 
Debbie also is the founder of international trade and political consulting firms. Drawing upon her experience as a former Assistant U.S. Trade Representative and years of legal practice — including as an adjunct lecturer in International Trade Policy at the USC Law Center — Debbie advised corporations on market entry strategies, assisted companies in constructing business models within dynamic legal and political structures, and counseled corporate management on ways to operate profitably and ethically in delicate constitutional and political environments.
Debbie Shon is the recipient of the Wiley W. Manual Pro Bono Award from the California State Bar Board of Governors for her work in the community after the civil unrest in Los Angeles.  She is also the recipient of the 2016 USC Asian American Leadership Award. In 2019, she was honored to receive the Daniel Inouye Trailblazer Award and the 2019 Women's Leadership Award from the National Asian Pacific American Bar Association (NAPABA). 
She is the first female NBA registered agent.  
Before practicing law, Debbie served as the Legislative Director to the Dean of the U.S. Congressional Black Caucus and a national education lobbyist.  
She is a graduate of USC and Georgetown University Law Center.  Debbie proudly serves on the National Board of the Smithsonian.  She is also an Aspen Fellow and an ABA Foundation Fellow.  She is an active member of NAPABA, USC alumni association, the Georgetown Institute for Women, Peace, and Security, and the American Society of International Law.