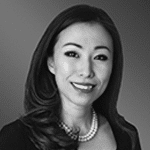 Lucy S. Lee
Vice Chair AND CHIEF EXECUTIVE OFFICER, HS Manufacturing Group

Vice Chair, Greentech Global Pte. Ltd.
Location: Washington, DC
Member Since: 2017
As the CEO of HS Manufacturing Group, Lucy is responsible for the Group's global businesses, expansion and manages the executive team and activities. Lucy also manages the Group's legal and financial affairs and advises the Chairman as the Vice Chair. Lucy holds an LL.M. from Georgetown Law School, J.D. from George Washington University Law School and B.A. in Government Affairs from University of Virginia. Prior to joining the Group, Lucy spent over 20 years working with global businesses and entrepreneurs as their legal and tax advisor and has served on boards of national and international foundations. Lucy was an executive for a multinational company and served as general counsel to national organizations. She also serves as Vice Chair to Greentech Global Pte. Ltd.