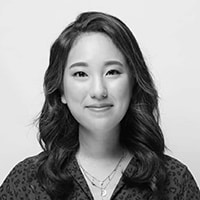 Angela Cho
Membership & Program Manager
Council of Korean Americans
Location: Washington, DC Metro
Angela Cho is the Membership & Program Manager at the Council of Korean Americans (CKA) where she works with the Director of Operations & Programming and the Community Engagement Manager to oversee the organization's leadership development programs and its partnerships with Korean American and allied organizations around the country.
Before CKA, Angela worked with Bank of America Charitable Foundation and the Center for Leadership Innovation to cultivate, develop, and execute leadership development programs for public and nonprofit organizations as well as students and emerging leaders.
Born and raised in Maryland, Angela graduated from the University of Maryland, Baltimore County with a bachelor's degree in Psychology.