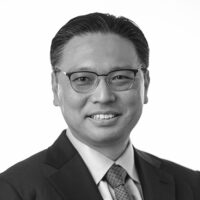 Abraham Kim, Ph.D.
EXECUTIVE DIRECTOR
Council of Korean Americans
Location: Washington, DC Metro
Abraham Kim, Ph.D., is the Executive Director at the Council of Korean Americans (CKA). He comes to CKA with 20 years of experience in foreign policy analyses, leadership development and innovation consulting. Previously, Dr. Kim served as Executive Director at the Maureen and Mike Mansfield Center located on the campus of the University of Montana, where he oversaw 50 staff, faculty and affiliates. During Dr. Kim's tenure, the Center became one of the foremost U.S.-Asia policy and leadership development institutes in the Pacific Northwest and Northern Rockies region.
Prior to the Mansfield Center, Dr. Kim also served as the Vice President and Interim President of the Korea Economic Institute of America (KEI) in Washington, D.C. In addition, he also functioned as the research manager for government services and principal Asia analyst at the global political risk consulting firm, Eurasia Group. He was a project manager and strategic planner at the Science Application International Corporation (SAIC) and a national security analyst at the Center for Strategic and International Studies (CSIS) in Washington, D.C.
Finally, Dr. Kim was a founding board member of CKA (2011-2013) and served as an adviser/instructor for NetKAL.  Dr. Kim is a graduate of Boston University and Harvard University. He received his Ph.D. in Political Science from Columbia University.