We hope you are all enjoying the fall weather and staying warm.
At CKA, we thank you for all the support we received during our virtual gala and in-person receptions in Los Angeles, and Washington DC. Thank you to our sponsors and donors for commemorating CKA's 10th Anniversary with an exciting program! 
Last month, CKA announced its merger with NetKAL. With the legacy of NetKAL and the energy of CKA, we are enthusiastic for our collaborative effort to develop the next generation of Korean American leaders. Please view the press release here.
We are excited to begin a new season of in-person programs and webinars! On Thursday, November 18, we invite members to a contemporary art education tour of Tina Kim Gallery's new exhibition followed by a hosted dinner with Tina Kim, curators, and media representatives. Please check out our Events Calendar for more information on events we have in store. 
The fourth and final quarter of new membership nominations are due on December 20th. If you have any friends or colleagues to nominate or recommend for 2021, please submit soon. You can find applications and information here.
And as always, we are proud to share the work of our CKA Members. Please read about our members' achievements in the fields of advocacy, policy, science, technology, business, government, law, and sports. 
Thank you all and take care.
Best Regards,


Abraham Kim, Ph.D.
Executive Director
Council of Korean Americans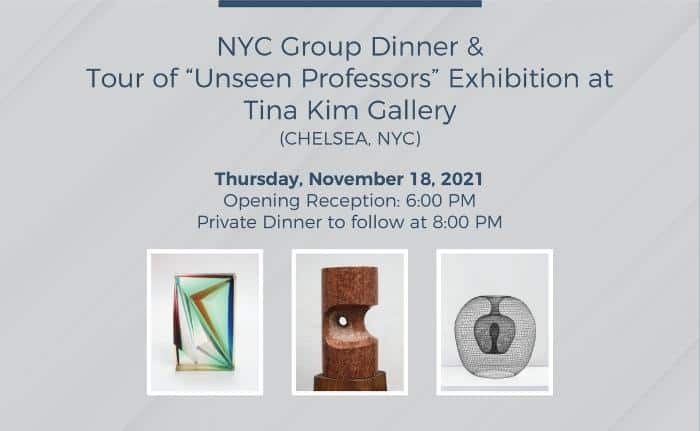 NYC Group Dinner and Tour of "Unseen Professors" Exhibition at Tina Kim Gallery (Chelsea, NYC)
CKA will be hosting a special gallery event on Thursday evening, November 18th at the Tina Kim Gallery, a New York City-based contemporary art gallery and exhibition space.
Reconnect with other CKA members in New York City during a contemporary art education tour of Tina Kim Gallery's latest exhibition: The Unseen Professors: Leo Amino (1911-1989), Minoru Niizuma (1930-1998), and John Pai (b. 1937).
CKA Group Dinner with guests will follow after the tour. 
This event is by invitation only. Opened to members and invited guests. Space is limited. 
If you would like more information or like to attend, please send an email to Angela Cho, Membership Manager: angela.cho@councilka.org
Please check out our website for more information on future events, both public and members-only.


CKA Member Linda Lee wins Council Member seat in New York's Bayside District
Congratulations to Council Member-Elect Linda Lee on her historic win as the first Asian American woman elected to represent Bayside District 23. She will take over Council Member Garry Grodenchik's seat starting in January of 2022 and be among the first of two Korean Americans on the Council, alongside Long Island City's Julie Won.