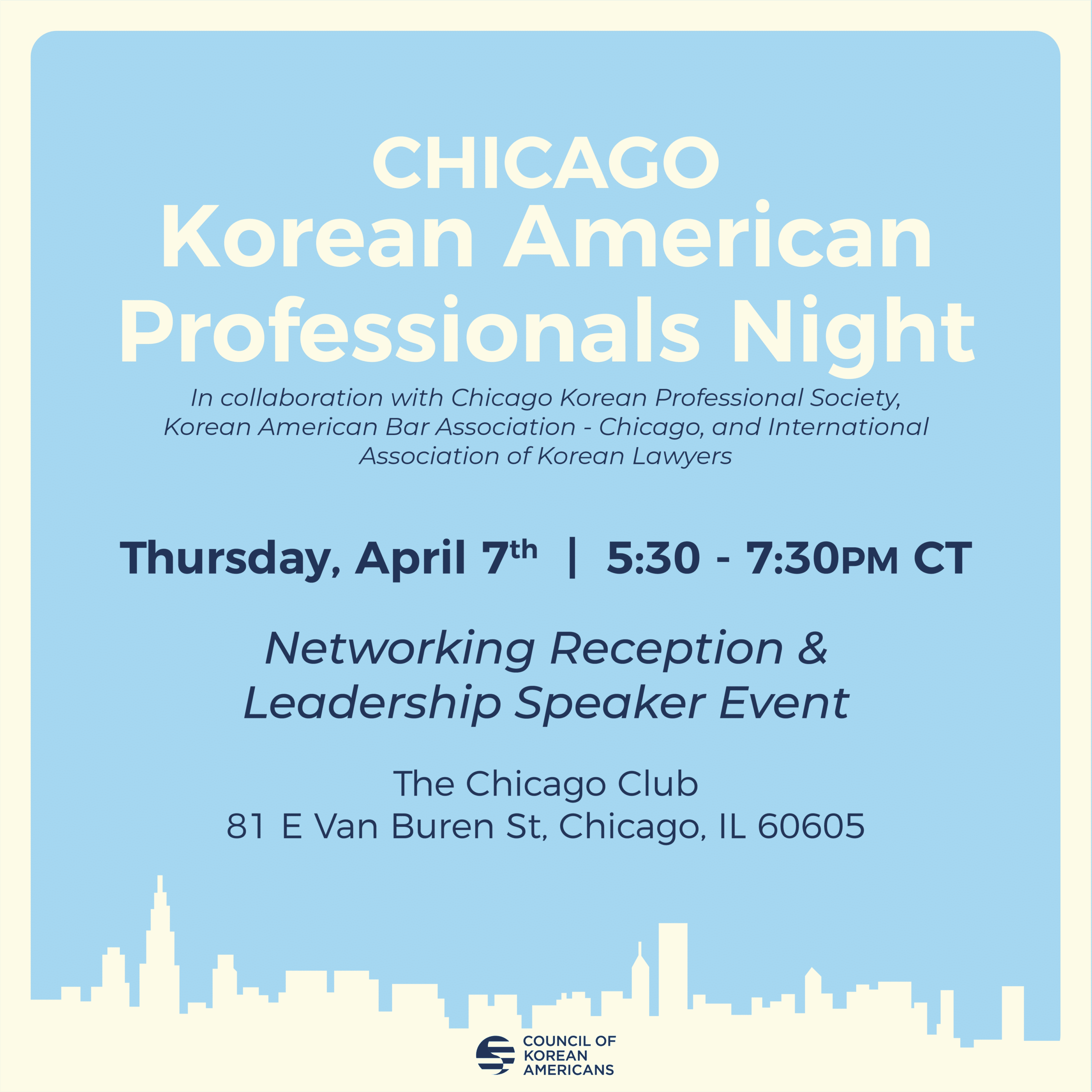 Chicago Korean American Professionals Night @ the Chicago Club
Join a meaningful evening of networking and conversation as young and experienced professionals from across Chicago assemble for a night of discussion about career development, leadership, Korean culture, and Korean American identity. 
Hosted by the Council of Korean Americans (CKA), this Korean American Professionals Night will be held at the celebrated Chicago Club on Thursday, April 7th starting at 5:30 pm. The evening program will feature an evening cocktail reception with hors d'oeuvres, followed by an interactive panel conversation with Don Liu, Executive Vice President and Chief Legal & Risk Officer for Target Corporation,  and Patricia Liu, Founder and CEO of Best of Korea. This distinguished panel will be moderated by CKA Executive Director, Abraham Kim. 
Don't miss this rare event to meet fellow Chicago-based Korean American professionals. Plus, learn insights about: How corporate and legal executives are actively supporting efforts to get more Asian Americans promoted to senior management and C-Suites? What factors are holding back many Asian Americans from reaching the top?  How the recent popularity of Korean pop culture may be impacting Korean American prospects for leadership? 
This event will be held at the Chicago Club on April 7th (Thursday). Doors will open at 5:30 pm to the networking reception with the panel program starting soon after. The evening program will end at 7:30 pm. 
Online pre-registration is required. Walk-ins are not allowed.
Students are encouraged to attend, this event is free of charge. For questions, please contact membership@councilka.org.
*All participants are required to present vaccination cards upon entry. No exceptions. 
Dress code is business casual (e.g., no jeans and no tennis shoes)  
We'd like to thank co-organizers Suzanne Yoon (Kinzie Capital Partners, LLC) and David Namkung (Clarity Partners, LLC)
Collaboration partners include Chicago Korean Professional Society (Chicago KPS), Korean American Bar Association of Chicago (KABA), the International Association of Korean Lawyers (IAKL), and the Council of Korean Americans.  
This program could not be possible without a generous grant from the Korea Foundation and contribution from RSM.