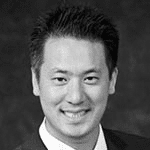 Young Jun Kim
Managing Partner,
LKP Global Law, LLP
Location: Los Angeles
Member Since: 2017
Young J. Kim is the co-founder and Managing Partner of LKP Global Law, LLP, a Los Angeles-based boutique law firm, specializing in complex transactions and litigation. Young practices corporate, securities, mergers and acquisition, and intellectual property law, and manages LKP.
Young's experience includes initial public offerings, venture capital and private equity investments, stock and asset acquisitions, mergers, cross-border transactions, and software and other intellectual property license transactions. He started his legal career at Latham & Watkins, and previously served as the General Counsel and Senior Vice President for Video City, Inc., a publicly held retailer. Young also served as the lead in-house lawyer for LRN Corporation, a software as a service (SaaS) provider, through its industry-leading growth among its Fortune 500 customers.
Young received his JD from Columbia University School of Law and his industrial engineering and philosophy degrees from University of Washington, Phi Beta Kappa and Tau Beta Pi (National Engineering Honor Society). He lived in Korea and Malaysia for seven and four years, respectively, and speaks and reads Korean.