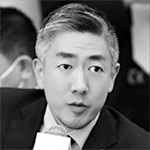 Young Ahn
PHYSICIAN,
KAISER PERMANENTE
Metro Region: DC Metro
Member Since: 2021
Young Ahn currently serves as a Physician at Kaiser Permanente. Previously, he served as Deputy Chief Medical Officer at Jiahui Health, a private tertiary healthcare system in Shanghai that is partnered with Massachusetts General Hospital.  In this role, he oversaw multiple segments of healthcare delivery with similar challenges that the US healthcare delivery system faces—namely access, cost, and quality.  The difference has been the opportunity to leverage technology and new healthcare delivery models while building the healthcare network from the ground up.
Previously, Young has served in senior leadership roles at Kaiser Permanente, regionally in the Washington D.C. area and on national committees.  He graduated from the University of Illinois in a combined medical degree program.  He is clinically trained and board-certified in anesthesiology from Massachusetts General Hospital and critical care medicine from the University of California San Francisco.  Prior to moving to Washington D.C., he served as an assistant professor at UCLA and the West Los Angeles VA.
Young and his family reside in Shanghai, China and the Washington D.C. area throughout the year.