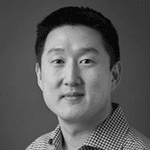 YB Choi
VENTURE CAPITAL,
CERCANO MANAGEMENT
Metro Region:  Seattle
Member Since: 2018
YB Choi was part of the Venture Capital team at Vulcan Capital. YB focuses on sourcing and evaluating early-stage investments broadly across the technology sector and manages many of the VC team's investments including Spaceflight, Axsy, Versive, Peach, Shippable, Apptentive, Blokable, Make.TV, Memphis Meats, Nanit, Vivid Robotics, Pointy, and VREAL. He has been involved in all of the VC team's 40+ portfolio investments since 2008 including five IPOs and nine exits via acquisition.
Prior to joining Vulcan, YB was a manager in the IP Acquisitions and Investments group at Microsoft Corporation. Before joining Microsoft, he was a member of the mergers and acquisitions group at Oppenheimer & Co. (formerly CIBC World Markets) and, earlier, worked in the health care investment banking group at Cowen & Co.
YB received his BS in Engineering Management Systems from Columbia University. He advises Venture Investing students at the University of Washington as a W Fund Fellow and is a frequent participant as a judge or panelist at events and conferences focused on early-stage technology investment.