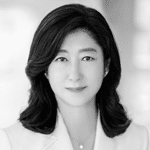 Won Kim
Vice President, SML Genetree Sciences
Metro Region: Virginia
Member Since: 2022
Won Kim joined SML Gentree Sciences, Inc., US subsidiary of SML Genetree, in 2020. SML Genetree is a leading developer of multiplex molecular technologies and multiplex clinical molecular diagnostic in Korea. SML Genetree was one of the first companies to develop Covid-19 PCR test kits in Korea and obtain the FDA EUA. At SML Genetree, Won is responsible for regulatory compliance as well as overseeing the commercialization of its IVD products in the US market.
Prior to joining SML Genetree, Won enjoyed a brief retirement from her legal career after serving 21 years at the Federal Communications Commission, where she was recognized for her exemplary services for the public. During her retirement, she devoted her time to the Potomac School, where she is still serving on the Board of Trustees, especially working on the Diversity, Equity, and Inclusion Committee as well as the Mental Health and Wellness Committee. Her earlier community activities included her leadership in the Korean American Alliance, Korean American Scholarship Foundation, as well as other several local non-profit
organizations.
Won earned her Juris Doctor from Georgetown University Law Center and her BA and MA in English Literature from Ewha Woman's University in Korea. As a British Council Fellow, she also received her second MA degree in English Literature from the University of Exeter, UK.