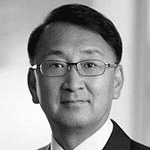 William Yongkyun Kim
SENIOR COUNSEL,
Ropes & Gray
Location: New Jersey / South Korea
Member Since: 2017
William (Bill) Yongkyun Kim is a US attorney licensed to practice in NY, Washington, D.C. and Minnesota. Bill is the first foreign lawyer in Korea to be registered with the Korean Bar Association as Foreign Legal Consultant. (Foreign lawyers approved by the Korean Ministry of Justice and then registered with the Korean Bar Association are called "Foreign Legal Consultants".) Bill currently resides in Seoul, Korea.
Bill is a partner in the corporate department of Ropes & Gray, co-chairs the firm's international practice group, chairs the firm's Korea practice, is a managing partner of Ropes & Gray's Seoul office, and is a member of the firm's office managing partners committee.
Bill represents and advises Korean multi-national companies and their U.S. subsidiaries in matters related to corporations, M&A, joint ventures, strategic alliances, cross-border transactions, project development and project finance. Bill also represents and advises many technology-oriented Korean companies in technology transfers, complex licensing arrangements and intellectual property litigations. In patent litigation cases, he has represented many of the largest companies in Korea, including Samsung Electronics, Samsung Display, LG Electronics, Hyundai Motor, Kia Motor, Hyundai Heavy Industries, CJ CheilJedang and other Korea-based multinational conglomerates. Bill also oversees complex business litigation, antitrust, mediation and arbitration cases as they relate to Korean clients.
Bill has been recognized by Chambers Global: The World's Leading Lawyers for Business (Intellectual Property in South Korea – Band 1)(2014-2017); Chambers Asia-Pacific: Asia's Leading Lawyers for Business (Intellectual Property in South Korea – Band 1)(2014-2017); and Asian Legal Business, Finalist for Managing Partner of the Year (2013-2017). In 2017, Bill was honored with an Appreciation Award by the Korean Bar Association in recognition of his significant contributions to the Korean legal profession. He is the first and only Foreign Legal Consultant to receive such award from the Korean Bar Association.
Bill is currently an adjunct professor at Georgetown University Law Center, and he is a frequent guest lecturer at universities, corporations and trade associations on subjects related to international negotiations and cross-border transactions.
From 2008 to 2013, Bill served on the Board of Directors of LG Display (the world's largest display manufacturer) and was a member of its Audit and Remuneration Committees. As a member of these committees, Bill took an active part in the development and implementation of various compliance programs for the company, including antitrust, U.S. Federal Corrupt Practices Act (FCPA), anti-bribery, unfair competition, unlawful discrimination and sexual harassment.
From 1993 to 1997, Bill served as general counsel and managing director of the Daewoo Group of Companies in its Chairman's Office in Seoul Korea (at the Office of International Legal Affairs) and, in that capacity, participated in numerous projects, deals, transactions and dispute resolution cases around the world.
Bill is currently Vice Chairman of the World Intellectual Property Association of Korean Practitioners. From 2000 to 2012, Bill was an active member of the Korean-American Scholarship Foundation, serving in various capacity including as the chairman of the Northeastern Regional Chapter, a member of the National Board of Directors and the chair of the National Scholarship Committee.
Bill attended the University of Chicago and The Catholic University of America (BS in Biology, 1979); Georgetown University Law Center (JD, 1983) and University of Michigan (MBA, 1987).