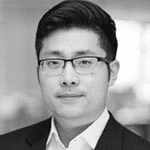 Timothy T. Hwang
Founder & CEO, FISCALNOTE
Metro Region: DC Metro
Member Since: 2018
Tim Hwang is currently the Founder and CEO of FiscalNote. The company owns media and news company CQ Roll Call Group, which it acquired from The Economist Group in 2018 and creates a technology platform that combines award-winning journalism along with products and services that provide access to large quantities of data, news, and analysis for all levels of government. The global company with offices across DC, NYC, Baton Rouge, Brussels, India, and Seoul has now grown to become the largest tech employer headquartered in DC, and powers almost 5,000 of the world's largest and most influential law firms, legal departments, and governments.
FiscalNote has raised over $230 million in venture capital and acquisition financing from the likes of The Economist, S&P Global, Mark Cuban, Jerry Yang, Steve Case, NEA, Renren and others.
Prior to founding FiscalNote, Hwang started his career in politics in the Obama '08 campaign, assisting in the election of the first Obama Administration. He was elected to the Montgomery County Board of Education a year later, overseeing a budget of over $4 Billion for 22,000 public employees. As a student, Tim also served as the President of the National Youth Association and the founder of Operation Fly, Inc. — a national 501(c)(3) organization that served inner-city children in underprivileged areas around the country.
Tim was profiled in Forbes 30 Under 30, Inc. 30 Under 30, CNN's Top 10 Startups, Business Insiders Top 25 Hottest Startups, and many others. He is a graduate of Princeton and currently deferring Harvard Business School. He is also currently a World Economic Forum Technology Pioneer, a Trustee on the Board of the Greater Washington Community Foundation (the largest funder of non-profit and philanthropic initiatives in the region) as well a Board member of The After School Alliance. He is a member of the The Economic Club of Washington, D.C., the Council of Korean Americans (CKA), and the Young Presidents Organization (YPO).