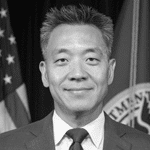 Ted Kim
Associate Director, Refugee, Asylum, and International Operations (RAIO),
U.S. Citizenship & Immigration Services
Location: Washington, DC
Member Since: 2014
Ted Kim's career in public service has been focused on protecting some of the world's most vulnerable populations—refugees fleeing persecution on account of race, religion, nationality, political opinion, or membership in a particular social group.
A member of the Senior Executive Service, Ted is the Associate Director for RAIO. Comprised of more than 1,800 employees, RAIO has a global presence at 25 U.S. embassies and consulates, deploys officers to conduct refugee processing activities in dozens of locations abroad, and maintains eight asylum offices within the United States.
Prior to his current position, Ted served in several leadership positions within USCIS, including Deputy Chief of the Asylum Division and Chair of the Asylum and Refugee Working Group at the Geneva-based Intergovernmental Consultations on Migration, Asylum, and Refugees. He also served as Director of the Washington Field Office, where part of his job was to administer the oath of allegiance at the naturalization ceremonies for the region's newly minted American citizens. Ted joined his agency in 1999 through the Presidential Management Fellowship program.
Ted received a B.A. from Yale College, traveled to Korea for a year on a Fulbright Scholarship, and obtained his Master's Degree from the Fletcher School of Law and Diplomacy at Tufts University.
Ted currently serves as Chair of the Board of Little Lights Urban Ministries, which provides services to underprivileged inner-city youth and their families in Washington, DC.