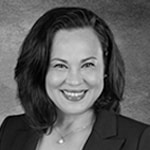 Tammy Kim
vice mayor & council member,
City of Irvine / Managing Director, Korean American Center
Location: Los Angeles
Member Since: 2019
Hon. Tammy Kim was elected to the Irvine City Council in November 2020 in a historic win beating out thirteen other candidates to take first place in one of the largest at-large elections in the state of California. She was then selected as Vice Mayor by her council colleagues.
Professionally, Tammy is the Managing Director of Korean American Center, a division of Korean Community Services, the largest nonprofit organization in Orange County serving the Korean American Community with programs ranging from eliminating health disparities, US citizenship and naturalization legal clinics, civic engagement, voter registration, healthcare advocacy, youth leadership, and cultural-based programs. Under Tammy's leadership, Korean American Center is the only organization in the United States to receive both a designation by the South Korean government as a King Sejong Institute and from the United States government for the teaching of Korean as a critical language.
Prior to nonprofit, Tammy spent nearly 20 years as a business executive, where she worked with both Fortune 500 companies and venture-backed technology startups resolving highly complex business, management, and legal issues on a global basis.
Tammy serves on several regional boards including SCAG (Southern California Association of Governments), OCCOG (Orange County Council of Governments), Orange County Mosquito and Vector Control, where she is Chair of the Policy & Personnel Committee, Large City Representative for the League of California Cities, Orange County Division Board Orange County Public Libraries Board and Irvine Land Trust.
Tammy is co-founder and Chair Emeritus of Asian Americans in Action, a political action organization aimed at elevating the political voice and impact of the Asian American community in Orange County through civic engagement and advocacy. She was elected to the Central Committee of the Democratic Party of Orange County in March 2020 and appointed voting delegate for the California Democratic Party. She previously served on the Board Member of the Korean American Democratic Committee and is currently the Chair of the API Caucus for the California Democratic Party's Southern Region.