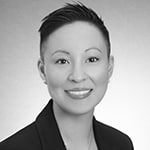 Sylvia Kim
General Partner,
Cerracap cares
Location: Los Angeles
Member Since: 2017
Sylvia is the General Partner of CerraCap Cares – an impact-driven fund unleashing the power of technology for good and investing in early-stage human-centered technologies that reduce disparities and empower the underserved. Currently, she is also a Venture Partner with CerraCap Ventures, an active member of the Global Women in VC community, and a member of the inaugural 2020 class of the All Raise Visionary Voices Speakers Bureau.
Previously, Sylvia co-founded a human rights organization for North Korean human rights and was the Founding Director of the country's first National Asian American Community Foundation. As a multilingual non-profit executive, Sylvia has over 15 years of experience in rights-based advocacy, strategic planning, and fund development. Her latest initiatives have been in the intersection of AI and human rights, advocating for ethical AI, and leveraging technology for good.
Sylvia has been featured in the LA Times, NPR, ABC News, the OC Register, and the New York Times and has been recognized for her advocacy work by local, national, and international agencies including the National Asian Pacific American Bar Association (Best Under 40), the International Association of Korean Lawyers (Public Interest award), the Orange County Bar Association (Courage Award for Diversity & Inclusion) and the Asia Society's Asia 21 Young Leaders. In 2019, Coast Magazine named her as one of Orange County's 2019 'Game Changers'.
Originally from Toronto, Canada, Sylvia practiced criminal law as both a defense attorney and as an Assistant Crown Attorney. Sylvia received her Bachelor's degree at Queen's University, her Juris Doctor from Osgoode Hall Law School, and completed her Master of Studies in International Human Rights Law (LL.M. equivalent) at Oxford University.