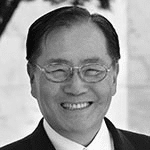 Sunny Park
Chief Executive OFFICER,
GREAT AMERICAN SCHOLARSHIP FOUNDATION
Location: Atlanta
Member Since: 2014
Sunny Park is the Chief Executive Officer (CEO) of Great American Scholarship Foundation, the former Chief Executive Janitor of General Building Maintenance, and CEO of Global Sun Investments, Inc. Mr. Park is an Executive in Residence of Georgia State University where he lectures MBA classes regularly. He is the 2000 USO Patriot Award recipient and was named one of Most Influential Atlantans by JAMES Magazine and Atlanta Business Chronicle for multiple years.
A native of South Korea, Mr. Park served as Commissioner of the White House Initiative on Asian Americans and Vice Chairman of Georgia Ports Authority. He immigrated to the United States in 1974 with no money and now, as an indicator of his business acumen, has successfully achieved his goal of paying $1 million in annual income tax.
Mr. Park also serves on several nonprofit boards, including: National Guard's Youth Foundation in Washington, DC, which supports programs for high school dropouts; USO Georgia; National Center for Civil and Human Rights; Carter Center Board of Councilors; Atlanta Symphony Orchestra; Atlanta Rotary Club Board; WABE Atlanta Public Broadcasting; Advisory Board of Kennesaw State University; Emeritus board member of Berry College and Junior Achievements Georgia. He previously served on the boards of National Museum of Patriotism; Georgia Public Policy Foundation; Shepherd Center Hospital; Emory University Board of Visitors; Savannah College of Art & Design. He is the 2004 and 2008 Presidential Elector from Georgia.
Mr. Park served as President of the National Korean American Federation (1991) and Chairman of the 1992 Overseas Korean Conference in Berlin, Germany. In 1996, he founded the American Korean Friendship Society to strengthen unique relationship between the two nations. To encourage fellow immigrants to become active in community affairs, Mr. Park founded the Good Neighboring Foundation. With his own program "If Sunny Can, I Can," he mentors high school dropouts at National Guard's Youth Challenge Programs. He presented the commencement speeches to the 2006 Class of Kennesaw State University, the 2007 Class of Berry College located in Rome, Georgia, and the 2018 Class of Belhaven University, Jackson, Mississippi.
Mr. Park is a laureate of Atlanta Business Hall of Fame of Junior Achievements and KATUSA Hall of Fame in Korea. He is decorated with People's Merit of the Republic of Korea; Service Award by the President of the U. S.; Americanism Medal by Daughters of American Revolution; Patrick Henry Trophy by National Guards; Small Business Person of the Year by Atlanta Chamber of Commerce; Lifetime Achievement Award by the National Youth Foundation 2007; VanLandingham Commitment to Economic Education Award by Georgia State University; Freedom Award from Georgia Public Policy Foundation; and the Liberty Award by Institute of Corian American Studies.
He studied at Information Technology Institute of Korea, Indiana University-Purdue University at Indianapolis, Kellogg School of Management, National Security Seminars at US Army War College, Carlisle Barracks, PA. He received an honorary doctorate degree from Belhaven University. Mr. Park and his family attend the Church of Apostles in Atlanta, Georgia.