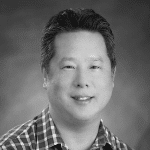 Steve Park
EXECUTIVE DIRECTOR, LITTLE LIGHTS URBAN MINISTRIES
Location: DC Metro
Member Since: 2020
Steve Park immigrated to the United States from South Korea at the age of 7. A devout atheist in high school and college, Steve converted to Christianity after recognizing the radical compassion of Jesus following a problematic experience of taking drugs after college.
Steve founded Little Lights Urban Ministries in 1995 after meeting underserved children and youth near his parents' business in NW, DC. Starting with no funds and no experience, he has grown the organization to 14- full-time, 40 part-time staff, and over 600 volunteers per year, giving more than 9000 volunteer hours annually. Little Lights hires over 25 residents from underserved communities.
Little Lights focuses on three public housing complexes, Potomac Gardens, Hopkins, and Benning Terrace, where families' average annual income is $11,000 to $14,000. Little Lights provides high quality after-school and summer programs, adult and employment programs, Christian mentoring and Bible studies, and a landscaping business called the Clean Green Team that employs returning citizens from the community. He also teaches the Race Literacy 101 class, now available virtually, that helps participants understand the history of racial ideology and systemic racism and how anti-racism connects to faith.
He has two children, Dylan and Kayla, ages 15 and 17, and has been married nineteen years to Mary Park, who serves alongside Steve as the Deputy Director of Little Lights.
Steve won the Gelman, Rosenberg, and Freedman EXCEL award in 2010 for excellence in Non-Profit Executive Management and the John Thompson Legacy of a Dream Award from Georgetown University in 2018. He also currently serves on the board of the Christian Community Development Association as the Treasurer. He is also one of the founders of DC Unity and Justice Fellowship, an all-volunteer faith-based organization dedicated to racial unity and justice, especially in the DC Metro area.
Steve and Mary Park were awarded the Embrace Unity Award from the Council of Korean Americans at the 2020 CKA Gala: Leading & Inspiring Through Adversity.