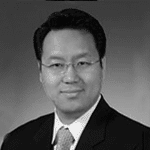 Steve Hahn
IMPLANTOLOGIST & COSMETIC DENTIST, GENTLE DENTAL CARE/GEORGIA DENTAL IMPLANT CENTER
Metro Region: Atlanta
Member Since: 2020
Steve T. Hahn D.M.D., M.S. received his academic training in Dentistry at Boston University, and he earned a certificate of Advanced Education in General Dentistry from Columbia University College of Dental Medicine. In order to become one of a select group of highly skilled dentists with training in Advanced Prosthodontics and Implant Surgery, he went on to complete an additional specialty residency with a master's of science degree in Advanced Prosthodontics at Columbia University College of Dental Medicine, followed by an Implant Fellowship with a Surgery Specialty at New York University College of Dentistry.
Until recently, Dr. Hahn's primary focus has been teaching in his areas of specialized training and skill — prosthodontics and implants. He has served in a range of teaching positions including Director and Assistant Professor of Clinical Dentistry at Columbia University College of Dental Medicine.
Over the past several years, Dr. Hahn's practice has evolved in parallel with his academic work: He now works directly with patients at his offices at the Georgia Dental Implant Center. As a doctor with a unique combination of skills, he dedicates his years of training in the maintenance of healthy teeth for his patients using the most extensive range of specialized skills and resources.
As one of an elite number of dentists with advanced training in Prosthodontics and Implant Surgery, Dr. Hahn remains ahead of the leading edge of dental care by constantly updating his practice with the latest available technological developments in the areas of General Dentistry, Implant Surgery, and Advanced Prosthodontics. By continually setting the highest standard for himself and his staff, he assures his patients the highest quality of dental care currently available.
Dr. Hahn is a member of the American College of Prosthodontists, The Academy of Osseointegration. He is currently an active member of the Omicron Kappa Upsilon Honor Society. He has formerly been an active member of the American Dental Association, former member of the International Congress of Oral Implantation, and the former Advisor for the Korean American Dental Student Association at Columbia University. Dr. Hahn is bi-lingual and speaks English and Korean.