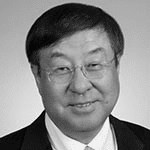 Stephen Kahng
Director,
Kahng Foundation
Location: San Francisco Bay Area
Member Since: 2012
Steve Kahng is a General Partner at Arboretum Capital LLC, a family office. Outside of Arboretum, he has been devoting most of his time to philanthropy and non-profit work through his family foundation. He is currently on the Board of Overseers for the Hoover Institution at Stanford University and is a Trustee of the Asia Foundation. He is also a Board member of San Francisco Opera, American Australian Council, KAIST University US Foundation, and the Committee for Human Rights in North Korea. Steve also serves on the International Advisory Board of the Carnegie Mellon University Center for International Studies.
Previously, Mr. Kahng founded Power Computing Corp. in 1994 as Chairman and Chief Executive Officer. Power Computing was the most successful of several companies that received licenses for the Macintosh OS platform. In 1999, the company was acquired by Apple Computer when Steve Jobs returned to the company.
Prior to Power Computing Corp, Steve was a Senior Vice President and General Manager of Chips and Technologies Inc., a leading semiconductor manufacturer in the early days of the PC industry.
He began his career at IBM as a computer designer for IBM 3080 Mainframe computers. In the early 1980s, he began several successful start up companies in computer design and semiconductor sectors. He was also a consultant to many domestic and international computer companies including Digital Equipment Corp, Compaq Computer Corp (both now part of HP), Olivetti Corporation, Samsung Electronics, LG Electronics and Daewoo Corporation.
Steve received a Masters in Computer Engineering at the University of Michigan and a B.S. in Electrical Engineering from Michigan Technological University. Steve also served in Illinois Air National Guard.
Steve received numerous awards including:
Mo Ran Jang Medal – Second highest Civilian award from Government of Republic of Korea.
Entrepreneur of the Year Award from KPMG
Lifetime Achievement Award from Mac World Magazine
Global Korean Award from Michigan State University and State University of New York
NetKal Pioneer Award from University of Southern California