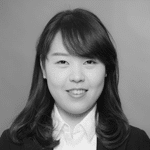 Stella (Somin) Yoo
MANAGING DIRECTOR,
EVERCORE PARTNERS
Metro Region: San Francisco Bay Area
Member Since: 2022
Stella (Somin) Yoo is a managing director in the Technology Advisory Group at Evercore and is based in Menlo Park.
At Evercore, Stella has advised leading technology firms and financial sponsors on a variety of transactions. Prior to joining Evercore, Stella was an investment associate at Stonepeak Infrastructure Partners. She started her career as an investment banking analyst at Bank of America Merrill Lynch.
Stella earned a B.S. in economics and statistics with high honors from the University of Michigan, Ann Arbor, and was awarded a full scholarship from Mirae Asset Financial Group, one of the largest independent asset managers in South Korea.