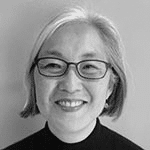 Sophia Chang
Independent Consultant
Metro Region: San Francisco Bay Area
Member Since: 2014
Dr. Sophia Chang is the former Chief Clinical Informatics Officer at Clover Health where she was responsible for setting the company's clinical strategy, and integrating clinical perspectives into Clover's technology platform to improve care delivery teams and services. She is currently an independent consultant working at the intersection of informatics, health care and public health.
Prior to joining Clover, Dr. Chang was Chief Clinical Innovation Officer at CareMore Health Plan where she focused on using technology to scale care of high-cost Medicare members and translate the model to Medicaid. Before that, her previous positions include Vice President of Programs at the California HealthCare Foundation (CHCF), Vice President and Medical Director of population health solutions at Accretive Health, Director of CHCF's Better Chronic Disease Care program, Director of the Veterans Health Administration's Center for Quality Management in Public Health, Director of the HIV/AIDS program for the Henry J. Kaiser Family Foundation, Medical Director of the San Francisco Health Plan, and Director of AIDS Health Services for the San Francisco Department of Public Health.
She has also worked as a medical researcher, examining health disparities in breast cancer care. She has been advisor to the Korean American Community Foundation of San Francisco, as well as the Maven Project which works to improve access to quality care for underserved populations. She has also served on the Managed Risk Medical Insurance Board, which oversees Healthy Families (the state's Children's Health Insurance Program) and California's Pre-Existing Condition Insurance Plan. Dr. Chang continues to teach general internal medicine at San Francisco General Hospital as a UCSF faculty member.
Dr. Chang holds a Bachelor's degree from Amherst College; a Master of Public Health from the University of California, Berkeley; and a Medical Doctorate from Columbia University's College of Physicians and Surgeons.