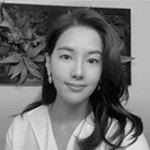 Sewon Jung
MANAGER, KOTRA WASHINGTON D.C.
Metro Region: DC Metro
Member Since: 2022
Currently, the Policy Analysis and Strategic Partnerships Manager at Korea Business Center (KOTRA) in Washington, D.C. KOTRA is a Korean government agency that assists Korean companies in broadening their market abroad and cooperating with foreign companies. It has 127 offices in 86 countries worldwide. She was dispatched from KOTRA headquarters in March 2020.
Sewon is trying to expand her network and collaborate with organizations or companies in the U.S. for cooperation forums, webinars, etc. She has already planned some cooperative events next year with International organizations, Universities, and Institutes in the U.S.