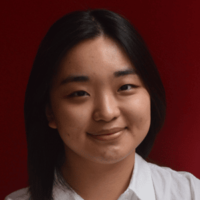 American University
U.S. Agency of Global Media
Born and raised in the Bay Area, California, Sarah Yoon is a rising junior at the American University in Washington, D.C. pursuing a Bachelor's degree in International Studies with a regional focus in East Asia and the Pacific. She has been serving as the Vice President of the Korean Student Association for the past two semesters and has been on the executive board since Spring 2021. Outside of classes, Sarah balances her academic load with her various jobs as a Faculty and Facilities Assistant for the School of International Service, a Korean Language coach, and peer facilitator for American University Experience, a first-year student transition course. When she wants to express her more artistic side, Sarah spends time with her cello as an active member of the university's Symphony Orchestra. She is passionate about expanding knowledge about their Korean heritage and leads a bi-weekly program hosted through the university's Korean Student Association called "Say Kimchi" where she speaks on cultural, traditional, and political issues happening in South Korea.
Outside of academic and professional commitments, Sarah prioritizes going to church, spending quality time with her friends and family, and exploring the National Mall and all of the great attractions that the nation's capital has to offer. She is very excited to continue her passion for public service and serve the local community in D.C. in various ways.