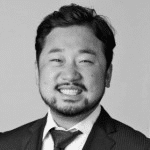 Sang J. Cho
Co-Founder & President,
Rounded & Haymaker coffee company
Metro Region: Central
Member Since: 2018
Sang is currently the Co-founder, President, and CFO of Rounded, by Concealment Express a tactical gear manufacturing company, and Co-founder and President of Haymaker Coffee Company both based in Jacksonville, Florida.
Beforehand, he lived in Houston for seven years with NexTier Inc, formerly Keane Group, working directly with the COO and CFO to build the infrastructure and team to position it for IPO, which went public in 2017. Prior to Keane Group, Sang began his career with GE, progressing through the Financial Management Program and continuing on through their Global leadership program, the Corporate Audit Staff. Through his rotations, he lived and worked in Belgium, Germany, Japan, Norway, and the UK among others.
Sang is a member of the Young Presidents' Organization (YPO), Past Chair, and a Founding Board Member of Bloom Academy, a charter school in Houston, Texas, a graduate of the Leadership Jacksonville Program, a fellow of NetKAL X, and American Leadership Forum of Houston, Texas.
Sang earned his M.B.A. from the Kellogg School of Management at the Northwestern University, Bachelors of Business Administration from the University of Miami, and is now a candidate for the Mid-Career M.P.A. from the John F. Kennedy School at Harvard University.