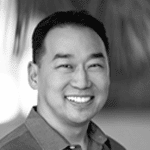 Robert Cho
President, PacificWest Energy Solutions
Metro Region: Orange County, CA
Member Since: 2022
For over 25 years, Rob has led the innovation and development of over $500 Million in energy, infrastructure, and water improvements. Market expertise includes federal, state, county, local city, higher education, schools, and the private sector. He has presented and provided valuable insights throughout his career in energy technology, industry trends, finance, and public policy.
He is the President and founder of PacificWest Energy Solutions, which partners with California local governments in selecting the right mix of technologies coupled with creative financing strategies and sharing those success stories. California communities have benefited greatly from this comprehensive approach resulting in increased energy efficiency, financial stewardship, cleaner air, cost predictability, and environmental leadership.
Rob grew up in a Korean immigrant family in the Midwest in Chicago and Detroit before moving to the San Francisco bay area to attend UC Berkeley to obtain a BS in Mechanical Engineering. He is a certified Professional Engineer (PE), General Contractor, Certified Energy Manager (CEM), and Certified Measurement & Verification Professional (CMVP).
Rob resides in Southern California with his amazing wife of 19 years and 2 kids (16 & 13). He enjoys eating great food, cooking BBQ, and experimenting with aging whiskey.