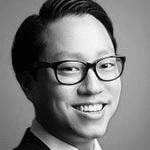 PJ Kim
Co-Founder & CEO,
Fair Market Financial
Location: New York
Member Since: 2012
PJ Kim is Co-Founder and CEO Fair Market Financial, a startup focused on public sector finance. Previously he served as CEO of New York Needs You (NYNY), a nonprofit that helps New Yorkers who are first in their family to go to college and community college to achieve their academic and career potential through a 3-year Fellows Program that provides mentorship, professional internships, financial support, and curriculum focused on college completion and career success.
Most recently, PJ was Executive Director of the Drum Major Institute for Public Policy, a nonpartisan, progressive policy think tank in New York City that was founded in the Civil Rights movement by Dr. Martin Luther King's advisors, and which serves as a public policy and program partner to the King Center in Atlanta. A former candidate for New York City Council, PJ earned the endorsement of the New York Times, The Daily News, and the New York Press. PJ was previously Vice President for Programs and part of the start-up team at Single Stop USA, an innovative national campaign to provide 'one-stop shopping' at neighborhood-based organizations and community colleges for low income families to receive benefits screening and enrollment, free tax preparation, financial counseling, and legal services.
He was previously the Director of Income Policy at FoodChange, where he led the country's largest free tax preparation campaign to serve 43,000 low-income New Yorkers with $80 million in tax refunds through the Earned Income Tax Credit, hundreds of new bank accounts, and thousands of subsidized health insurance enrollments. Earlier in his career, PJ was a management consultant in McKinsey's New York City office. He received his MBA and Master's of Public Administration at Harvard Business School and the Kennedy School of Government as a Paul and Daisy Soros Fellow and his AB from Princeton University where he was President of the Student Body and has served as a University Trustee. He is a first-generation immigrant who attended public schools in Louisiana and Tennessee.