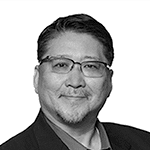 Peter Kang
PARTNER, BAKER BOTTS L.L.P.
Location: San Carlos, CA
Member Since: 2021
Peter Kang is a partner with the international law firm of Baker Botts, where he is a senior IP trial lawyer based in Silicon Valley. He has served as trial counsel in fifteen bench and jury trials, seven as lead trial counsel. His most notable trial victory was a complete defense verdict as lead counsel in a patent jury trial in the home electronics industry, including a post-trial award of $4.6 million in fees and costs for his client, founded by a Korean-American entrepreneur.  Peter has worked on over 80 patent lawsuits nationwide, including representing clients in over a dozen investigations in the U.S. International Trade Commission. 
Peter has represented clients in over 25 contested matters before the U.S. Patent Trial and Appeal Board (PTAB), including several appeals from the PTAB to the U.S. Court of Appeals for the Federal Circuit.
Peter has regularly represented pro bono clients.  For example, he was lead counsel for several Asian-American prisoners in their civil rights cases against San Quentin Prison, ultimately achieving expungement of their records which led to parole for his clients.  For this work, the Asian American Bar Association awarded him the "Commitment to Diversity" Award.  He currently serves as President of the International Association of Korean Lawyers Foundation. 
Peter is the author of the top-ranked legal treatise "Intellectual Property Litigation in the United States International Trade Commission." The Daily Journal selected Peter as one of the "Top IP Lawyers" in California multiple times.  He has been ranked by Chambers since 2015 and as a Global Leader by Who's Who Legal.  Peter is a Fellow of Litigation Counsel of America.   He serves as Global Co-Chair of his firm's Korea Practice and Chair of the firm's First Generation Professionals Group. He is a Registered Patent Attorney and member of the California bar. 
After law school, he clerked for U.S. District Judge Ernest C. Torres (R.I.).  He received his B.S. in Industrial Engineering and B.A. in Classics from Stanford University.  He received his J.D. cum laude from Georgetown University.