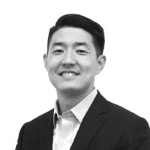 Paul Seo
Deputy District Attorney,
Los Angeles District Attorney's Office
Location: Los Angeles, CA
Member Since: 2020
Paul currently serves his community in the Los Angeles County District Attorney's Office as a Deputy District Attorney. Prior to joining the Los Angeles County District Attorney's Office, Paul served as a judicial clerk for the Los Angeles Superior Court Criminal Writs Center.
Before entering the field of law, Paul attended the United States Military Academy (West Point) and graduated in 2004. After graduating from West Point, Paul served in the United States Army from 2004 – 2010. He served as a company level officer in South Korea with 2nd Infantry Division, 2-9 Infantry Battalion. Furthermore, he served as the assistant operations officer with United States Army Troop Command – Yongsan, South Korea. Lastly, Paul served as an operations officer for the United Nations Command Security Battalion – Joint Security Area along the demilitarized zone of South and North Korea. After Korea, Paul entered the U.S. Army Reserves and served at Los Alamitos Joint Training Base in Los Alamitos, CA as the assistant combat arms platoon leader. Paul finished serving as a Captain in the U.S. Army.
In 2016, Paul was elected to the Palms Neighborhood Council in Los Angeles representing Area D. In 2020, Paul was elected as a Member of the Central Committee for the Los Angeles County Democratic Party, 66th Assembly District.
Paul received his B.S. in Economics from West Point, J.D. from Loyola Law School and is a graduate of the Harvard University, Kennedy School of Government's Executive Education Program for Senior Executives in State and Local Government.