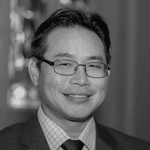 Paul Kim
Attorney, U.S. Securities and Exchange Commission
Metro Region: Atlanta
Member Since: 2022
Paul Kim is a Senior Trial Counsel for the U.S. Securities and Exchange Commission. Prior to his current position, he served as an associate and partner at Locke Lord, an associate at Torys LLP, and an associate at LeBoeuf, Lamb, Greene & MacRae LLP.
Paul is a National Board Member of the National Asian Pacific American Bar Association and is VP and Board Member of the American Korean Friendship Society. He has also served two terms as President of the Georgia Asian Pacific American Bar Association.
Outside of the legal field, he is a Rector's Warden and Vestry Member at the Church of Apostles.
Paul received his Bachelor of Arts degree at Yale University and received his Juris Doctor degree from NYU School of Law.