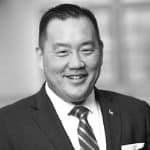 Patrick Chun
DIRECTOR OF ATHLETICS, WASHINGTON STATE UNIVERSITY
Metro Region: Seattle
Member Since: 2020
Since arriving in January 2018, Washington State University Director of Athletics, Pat Chun, has overseen a transformation of Cougar Athletics, on and off of the field. From record student-athlete academic achievement to record-setting fundraising, from transformative facility projects to innovative student-welfare programming, Pat has had an immediate impact on WSU.
Upon his hiring, Pat became the 14th individual to lead Cougar athletics in school history and the first-ever Asian-American athletic director to lead a Power 5 Conference institution. He also had another first in 2019, named Under Armor Athletic Director of the Year, the first Cougar athletic director to receive the honor.
Recently, Pat began a four-year term on the prestigious NCAA Division 1 Council, a high-level group responsible for the day-to-day decision-making of NCAA Division 1. He also serves on the NCAA Division 1 Strategic Vision and Planning Committee. Pat also serves as co-chair for the newly formed Pac-12 Social Justice and Anti-Racism Advisory Group.
Pat has instituted programs to benefit student-athlete welfare, including improvements to mental health awareness and a commitment to diversity and inclusion initiatives, while working closely with WSU's Student-Athlete Advisory Committee and the Black Student-Athlete Association. WSU's commitment to mental health awareness, under Pat's efforts, resulted in WSU Athletics being awarded the Washington State Psychological Association's Public Citizen Award in 2018.
Additionally, the academic performance of WSU student-athletes has set or tied program highs for cumulative GPA in each of the last five semesters entering the Fall of 2020, including a department record 3.35 semester GPA in the Spring of 2020. WSU also posted its highest Graduation Success Rate ever in 2018-19. On the field of play, the Cougars have seen program-best performances from multiple sports. Football enters the 2020-21 year, having gone to five-consecutive bowl games for the first time in school history, while women's soccer reached the Division 1 Women's College Cup in 2019. Also in 2019, WSU authored and implemented its first ever 5-year strategic plan: UNLEASH.
Prior to WSU, Pat served as Director of Athletics for 5 ½ years at Florida Atlantic University and spent 15 years at his alma mater The Ohio State University in a multitude of roles.
A native of Strongsville, Ohio, Pat earned a bachelor's degree from The Ohio State University and a master's degree from Duquesne University. He and his wife Natalie, also an OSU alumna have three daughters (Vanna, Kennedy and Gretta) who enjoy their dog (Little Brother).