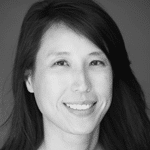 Na-Ri Oh
EXECUTIVE DIRECTOR,
GILEAD SCIENCES
Metro Region: Central
Member Since: 2022
Na-Ri Oh, MD is the Executive Director of Global Commercial Strategy and Operations for Hepatitis B and Hepatitis D at Gilead Sciences. Her professional focus is on bringing life-saving medicines to patients with underserved diseases that disproportionately affect people from Asia and Africa.
Na-Ri was born and raised in Germany where she earned a BS in Biochemistry and Molecular Biology from University of Hamburg and an MD from Ruprecht-Karl-University of Heidelberg, Germany's oldest university. She was a Visiting Undergraduate at Harvard University and received a scholarship from the Studienstiftung des deutschen Volkes which is awarded to the top 0.5% of German university students.
Before joining the pharmaceutical industry, she practiced medicine as an Infectious Disease physician with a focus on HIV. Na-Ri has worked in global and US-based roles in Marketing and Strategy across six continents.
Na-Ri and her husband Ian are parents to five children and live in the Texas Hill Country.