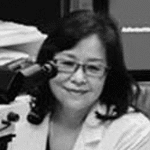 Myong Ho "Lucy" Nam
Medical Director, Inova Laboratories,
Inova Health System
Location: Washington, DC
Member Since: 2018
Dr. Nam is the Medical Director of the Inova Laboratories, a central reference laboratory serving the entire in- and out-patient services at the Inova Health System, located and serving 70% of the northern Virginia region. She enjoys teaching, and currently is the Medical Director of the Inova Fairfax Hospital School of Clinical Laboratory Science. She also supervises System laboratory standardization committees within the Inova. She is actively involved in Clinical Utilization Committees and Quality Improvement Projects collaborating with multiple disciplines.
Prior to joining the Inova Health System, she practiced at the Washington Hospital Center, a tertiary care referral center for MedStar Healthcare Corporation in Washington, DC, serving as the Medical Directors of Hematology, Transfusion Medicine and Point of Care testing areas, and Pathologist Adviser for System Consolidation and Standardization projects. She was the program director of the Research Fellowship at the Department of Pathology at the Washington Hospital Center.
She has 29-years of experience in Anatomic and Clinical Pathology and holds two subspecialty boards in Hematology and Blood Banking/Transfusion Medicine in addition to AP/CP board. She was elected as the President of the Washington Society of Pathologists for 1994-1995. She is a Cum Laude graduate of Seoul National University College of Medicine, Seoul, Korea.
Dr. Nam is involved in non-profit volunteer organizations serving disabled as well as women and children in needs such as KOWIN and WCCW.
She served as Regional Director of US KOWIN Eastern Region for 2013-2015, and was a past President of KOWIN Washington DC Chapter for 2010-2013. She has been actively involved in KOWINNER international foundation as a managing board member, and now as the auditor. She has successfully organized Joint 2015 5th KOWINNER International Convention and 8th KOWIN US Eastern Regional Leadership Conference in Washington DC from 5/1-5/3.
Out of her busy schedule, she enjoys travel, music, art and networking.