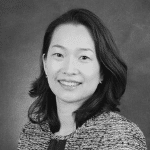 Minji Kim
Head, Business Development & Alliance Management,
Jounce Therapeutics

Location: Boston, MA
Member Since: 2020
Minji Kim is a life science professional and strategist with nearly two decades of combined experience in corporate and business development, commercial strategy, finance, alliance management, scientific research, and company formation. Minji currently serves as Head, Business Development and Alliance Management at Jounce Therapeutics (Nasdaq, JNCE), a Third Rock Ventures-founded, immuno-oncology company. Prior to joining Jounce Therapeutics, she was VP of Corporate and Business Development at Curis (Nasdaq, CRIS), another clinical-stage cancer therapeutics company, and played a pivotal role in transforming the company and raising over $60M equity financing through a strategic transaction. She also worked in the Global Oncology Business Development & Licensing group of Hoffmann-La Roche, a multinational pharmaceutical company.
As additional activities, Minji helped life science start-up companies as a mentor and advisor through Springboard Enterprises and MassBio Massachusetts Biotechnology Council. She also co-founded a stealth-mode biotech start-up in the Boston area. Prior to transitioning to the industry, she researched Alzheimer's disease at Harvard Medical School, Mass General Hospital as a faculty member.
Minji obtained her B.S in Molecular Biology with summa cum laude, M.S, and Ph.D. in Molecular and Cell Biology at Seoul National University in Korea. She also received an MBA at Yale University.