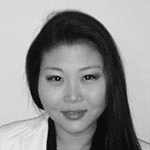 Mina Kim
Dentist,
Bryant Park Dental Associates
Location: New York
Member Since: 2017
Mina C. Kim is the dentist owner of Bryant Park Dental Associates in midtown Manhattan. She received her B.A. from Barnard College and returned to Columbia to obtain her dental degree.
Dr. Kim is highly involved with the dental community and serves on several boards including the alumni committee of the Columbia University College of Dental Medicine as secretary and the board of the New York County Dental Society. In addition, she and a dental colleague created Woman to Woman Dentists Network after recognizing the lack of support for the unique needs of woman dentists. Woman to Woman Dentists Network boasts over 150 members and aims to foster camaraderie and mentorship among woman dentists. Past events have been at the private salon at Tiffany's and the Rubin Museum of Art.
She also created the NYC chapter of Give Kids a Smile Day (GKASD.) GKASD was designated by the American Dental Association to provide education and treatment to children facing barriers to dental care. The NYC program now screens over 2000 children. She is currently working with New York Public Library to form a partnership between them and the local dental society to provide dental education and career development to library goers.
Dr. Kim was highly involved with KALCA, since 2011 when she served on the Steering Committee as the Chair of Events and Fundraising. She planned many events and was a gala committee member for several years.