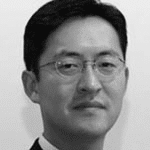 Mike Joo
Chief Operating Officer, Global Corporate & Investment Banking,
Bank of America
Location: New York
Member Since: 2016
Mike Joo is Managing Director and COO, Global Corporate & Investment Banking at Bank of America. Mike is responsible for driving strategy and key business initiatives across corporate and investment banking globally.
Mike began his career at Goldman Sachs in New York and then moved to Hong Kong where he was co-head of Asia Debt Capital Markets at Credit Suisse. After joining Bank of America Merrill Lynch, he relocated back to NY as COO, Global Markets and served as head of Global Rates & Currencies Origination.
In Asia, Mike was involved in various advisory and financing projects for the Korean government and received a distinction from the Korean government for his contributions during the Asian financial crisis. Mike is currently a board member of Korea Finance Society and received his Bachelor of Science in Biology from MIT.