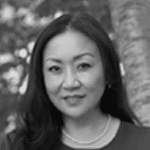 Mihae Kim Stefani
FOUNDER, PRESIDENT, SENIOR ART DIRECTOR, GIMGA DESIGN GROUP LLC
Location: Virginia
Member Since: 2021
Mihae Kim Stefani, founder and owner of Gimga Design Group, has over 30 years of experience. She has designed thousands of projects including logos, publications, annual reports, newsletters, promotional packages, trade show & exhibit materials, advertisements, websites, and events. Mihae works with international clients from around the world and remains actively involved with
local community organizations. Her leadership style is to remain engaged with her creative team throughout the life of a project, large or small.
Gimga Design Group is a full-service firm specializing in communication, design, media development and events. Innovation and creativity drive our quest for excellence in product and service. From traditional print materials to the latest interactive web development, offering professional services to fit any client.
Mihae is a founding member of a number of community organizations: founding member and Board of Director of Korean American Alliance later merged with Korean American Coalition and served as the vice-chair of the Asian-American Chamber of Commerce, Board of Director of the Korean American Artist Association, Korean American Scholarship Foundation, and Korean American Women's Society and a member of The Art Director's Club. She was selected as a Commissioner for the Vienna Public Art Commission in 2015-2017. She was invited to be a guest speaker and panelist for many events and forums at area universities and community organizations. She received her BFA from the Corcoran School of Art + Design.