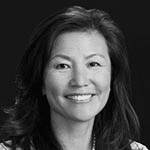 Michelle Rhyu
Partner
Cooley, LLP
Location: San Francisco Bay Area
Member Since: 2015
Membership Type: Full
Dr. Michelle Rhyu has twenty years of experience representing life sciences companies, with a primary focus on high-stakes patent, contract, and trade secrets disputes in the pharmaceutical and biotechnology industries. She has extensive experience leading litigation and trial teams, has argued at the US Court of Appeals for the Federal Circuit and has led briefing to the US Supreme Court.
Michelle has litigated cases involving small molecule drug compounds, pharmaceutical formulations, monoclonal antibodies, biofuels, hormone receptors, gene expression technology and medical therapies. She has experience with Hatch-Waxman litigation and the abbreviated regulatory pathway for biosimilars (BPCI Act).
Michelle was recognized by the Financial Times in 2015 as one of the Top Ten most Innovative Lawyers of North America and "the epitome of the 21st Century lawyer." In 2014, Michelle was recognized for her excellence in patent litigation and was named one of the 'Top 250 Women in IP' by Managing Intellectual Property. She has also been named to The Recorder's 2016, 2015 and 2013 'Women Leaders in Technology Law' list, which recognizes 50 female attorneys in California who have 'demonstrated leadership and expertise in solving the most pressing legal concerns companies can face.'
Michelle's graduate work on elucidating asymmetric cell division in drosophila neurogenesis was featured on the cover of the journal Cell. She is a recipient of the UCSF 150th Anniversary Alumni Excellence Award, which was presented to 150 alumni to honor the university's 150th anniversary. She is also the recipient of the Distinguished Alumna of the Year for 2017 award from the UCSF Graduate Division. She served as a law clerk for Judge James Ware in the Northern District of California and as an intern for Judge Paul Michel at the Federal Circuit.