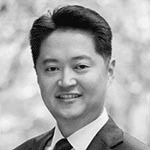 Luke Kang
Executive Vice President & Managing Director,
Walt Disney International, North Asia
Location: Greater China
Member Since: 2016
Luke Kang is Executive Vice President & Managing Director, Walt Disney International, North Asia, overseeing all of Disney's businesses in the North Asia region (Greater China, Japan and Korea) with the exception of the Company's Parks and Resorts division*. Mr. Kang is charged with driving the strategy and growth of the company in the world's most dynamic region.
Prior to this, Mr. Kang held the role of Executive Vice President & Managing Director, The Walt Disney Company, Greater China, a position he's had since 2014. Under his leadership, Mr. Kang has led the team through significant organizational change to achieve consistent record growth across all business segments* in that region. In 2016, Disney was the number one foreign studio at the Chinese box office, Consumer Products became one of the largest markets outside of the United States, the team expanded its digital media presence, and through an elevated creative focus, the organization successfully expanded its reach into new cities and to new consumer groups across Greater China.
Mr. Kang joined The Walt Disney Company in China as Managing Director, Disney Consumer Products and Disney Interactive, Greater China. He managed two key business units inclusive of Consumer Products, Disney Stores China, Publishing, E-Commerce and Disney Interactive which includes mobile, online, gaming and all franchise marketing.
In 2011, Mr. Kang was appointed Managing Director, The Walt Disney Company, South Korea, where he led tremendous growth for the Korea business. He was responsible for driving the Company's strategy, coordinating all Disney business efforts, overseeing Disney global franchises in the market, expanding existing businesses and seeking out new opportunities.
Prior to joining Disney, Mr. Kang held various senior management roles with Viacom/MTV Networks in Asia Pacific, Monitor Group Asia Pacific Region, and the Ministry of Finance & Economy of the Republic of Korea as well as startups in both Silicon Valley and Asia.
Mr. Kang holds a Master of Science degree in management as a Sloan Fellow from Stanford University Graduate School of Business, and a Bachelor of Arts from the University of Michigan.
*Excludes management for Disney Parks and Resorts businesses in Asia consisting of: Hong Kong Disneyland, Shanghai Disney Resort, Tokyo Disneyland and Tokyo Disney Sea.