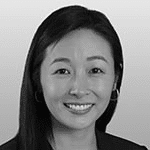 Laura Kim
Partner,
Covington & Burling LLP
Location: Washington, DC
Member Since: 2014
Laura Kim is a Partner and Co-Chair of the advertising and consumer protection practice group at Covington & Burling, where she advises clients across industries on complex advertising, marketing, and privacy matters. Laura re-joined Covington after serving in the federal government for nearly thirteen years. Most recently, Laura helped to stand up Federal Student Aid's new Enforcement Office, dedicated to identifying potential misconduct among higher education institutions and protecting federal student aid funding. As Deputy Chief Enforcement Officer, Laura oversaw the Enforcement Office's four groups: investigations; borrower defense; Clery compliance; and the Administrative Actions and Appeals group.
Prior to joining the Department of Education, Laura served in several management roles at the Federal Trade Commission's Bureau of Consumer Protection. She was Assistant Director in the Division of Enforcement, where she managed investigations, rulemaking, and federal court litigation spanning a wide range of consumer protection issues such as environmental marketing, privacy, and weight loss claims. She also served as Assistant Director and staff attorney in the Division of Marketing Practices, Chief of Staff to former Bureau Director Jessica Rich, as well as Attorney Advisor to former Chairman William E. Kovacic.
Laura began her career as an attorney at Covington & Burling, LLP, where she practiced in the areas of litigation and international law. She also served as a staff attorney and Acting Managing Attorney at the Neighborhood Legal Services Program, where she represented low income residents in court.
Laura received her B.A. from Yale University, summa cum laude. She received her J.D. from Harvard Law School. During law school, Laura served as a teaching assistant for the Harvard Program on Negotiation and volunteered as a court-appointed mediator.