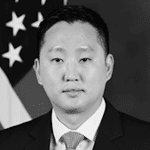 Larry Hencshel
Director of International and Interagency-5G, Department of Defense – Office of the Secretary of Defense

Metro Region: DC Metro
Member Since: 2022
Larry Hencshel is the Director of International and Interagency – 5G, at the Office of the Secretary of Defense (OSD) and Office of the Under Secretary for Research and Engineering (OUSD R&E) in the Pentagon. Prior to OSD, he served in several different agencies within the Department of Defense (NSA, DIA, OSD, OUSDI), the Department of Homeland Security (NCCIC & CISA), and the United States Air Force. Larry has a multitude of experiences in communications, policy, planning, international coordination, collection, analysis, processing, and dissemination of technical intelligence and program management in operations relating to SIGINT, Cyber, and 5G.
Since 2012, Larry has volunteered in several nonprofits across Washington DC, Virginia, and Maryland. He currently serves in three nonprofits as a senior advisor and speaker/instructor in the enhancement of youth education, high school and college students' professional development, cybersecurity training and workforce development, and the education of the Korean War and the Korean War Memorial of DC. Larry provides over 15 large-scale seminars a year (free to the public) to support these important areas of study. Through these nonprofits, Larry engages directly with international partners, political figures, and community leaders. Mr. Hencshel also serves on a Board of Directors for the Howard County Economic Development Authority in Maryland, overseeing the economic and infrastructure development for the county.
While volunteering in these critical community efforts, he is also a mentor and head coach for the Taekwondo team at the University of Maryland Baltimore County, Johns Hopkins University, and the United States Naval Academy. While working with several hundred high school and college students per year, he provides guidance and mentorship to students who want to serve in the U.S. Military or the U.S. Government. Larry is responsible for sending over 200 students to the military academies, military service, government service, or corporate industry, focusing on the professional field of intelligence, cybersecurity, policy, and information technology.
Larry holds a Bachelor of Science in Cybersecurity, a Master of Science in Cybersecurity Policy, a Master of Business Administration from the University of Maryland University College, and is currently pursuing his Doctorate in Global Security at American Public University.