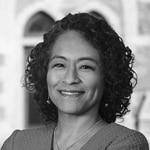 L. Song Richardson
president, Colorado College
Location: Los Angeles Area
Member Since: 2019
L. Song Richardson, a legal scholar, dedicated educator, lawyer, and expert on implicit racial and gender bias, was appointed the 14th president of Colorado College in a unanimous vote by the Colorado College Board of Trustees on Dec. 9, 2020. She was announced via a video that included an introduction by trustees and perspectives from the CC student body, faculty, and staff, as well as a powerful message from Richardson to the CC community. She will succeed Acting Co-Presidents Mike Edmonds and Robert G. Moore, who assumed the presidential role after former President Jill Tiefenthaler left the college in July 2020 to become the chief executive officer of National Geographic. Richardson will assume the presidency on July 1, 2021.
Richardson currently is the dean and chancellor's professor of law at the University of California, Irvine School of Law. At the time of her appointment as UCI Law's second dean, she was the only woman of color to lead a top-30 law school. She holds joint appointments in UCI Law's Department of Criminology, Law, and Society, and in the Department of Asian American Studies. She received her AB from Harvard College and her JD from Yale Law School.
Dean Richardson has won numerous awards and recognitions, including the American Association of Law School's (AALS) Derrick Bell Award, which recognizes a faculty member's extraordinary contributions to legal education through mentoring, teaching, and scholarship. She was recently named one of the Top Women Lawyers in California by The Daily Journal, one of the 100 Most Influential business and opinion shapers in Orange County, and one of the two most influential Korean Americans in Orange County.
Dean Richardson is a member of the American Law Institute, and she serves on the Executive Committee of the Association of American Law Schools.